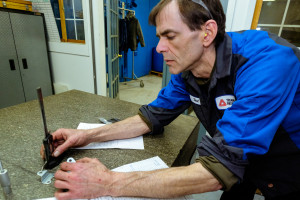 At Triangle Industries, the Quality Process begins long before inspection. It begins with our first contact with our customers and the opportunity to quote on a new project. From that moment on we adhere to a disciplined Quality Process whose sole objective is to assure consistent quality, part after part.
Every new project begins with a cross functional review. Critical features and dimensions are identified, analyzed, and documented in advance of making a part.
Our tool designers work to create tooling that will control critical features and where possible attempt to failure proof our process.
Production Team members perform, "In-process Quality Assurance" using standard measuring tools and when necessary, custom made testing fixtures. These procedures are performed at predetermined intervals and documented as part of our Quality Process.
Our Quality Assurance Lab staff provides "First Article", "In Process" and "Final Inspection" reports.
We are committed to continuous improvement in the area of quality and rigorously track our performance. To internally measure our performance, we track our discrepant PPM (parts per million). We consistently fall below 300, regarded as one of the toughest standards in our industry.